About us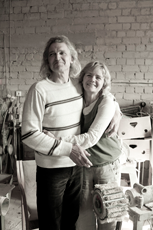 Craftsmen Dalia ir Jonas Alisauskai
Our leisure activity – making traditional Lithuanian wooden items – became family business.
After finishing his engineer studies in Vilnius Gediminas' Technical University Jonas started working as a teacher of crafts in secondary school. He taught his pupils carving, other small works with wood and used to bring same pieces of work home where the rest of the family also got involved with making items from wood. Dalia's interest in Lithuanian ancient past, folk craft tradition, ethnography played important role in this matter as well.
Twenty five years ago we first brought our wooden things to the biggest fairy of Kaziukas. People loved our items – we sold everything in few hours. This success motivated us to create more elaborate works; we started to explore Lithuanian ancient household articles, attempted to produce their contemporary copies.
Started with simple wooden trays, wooden teapot pads, cutting boards, salt cellars later we began to produce homey interior elements, souvenirs as well as original wooden jewelry and educable wooden toys. Every our item is handmade – natural and pure; it contains the smell of wood and mystery that lies in joy of creation.
Year by year the assortment of wooden and herbal items constantly grows. The ideas of new works rise in everyday communication with family, friends, customers, even during journeys to foreign countries.
All our works You can find in this website.
Also...
We are the members of Lithuanian Craftsmen Association, our works have a certificate of cultural heritage.