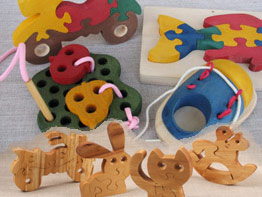 These teethers and rattles are hand shaped from birch and covered with linseed oil is intended for children less than 3 years.

Our contacts >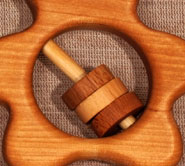 These teething rings and rattles are easy to hold and put in the mouth to sooth baby's gums.

Rattles have three movable rings and they makes a little noise when shake them. For baby it is interesting to see the couse and effect of what is creating the sound.

Attention! Do not hot sterilize or wash in the dishwasher.
Teether
Car KR01

Teether is covered with linseed oil.

Teether - rattle
Car BR01

Rattle is covered with linseed oil.

Wood: birch
Size: 1,1 X 7 X 12 cm
Wood: birch
Size: 1,4 X 7 X 12 cm
Teether
Hare KR02

Teether is covered with linseed oil.

Teether - rattle
Hare BR02

Rattle is covered with linseed oil.

Wood: birch
Size: 1,1 X 8 X 10 cm
Wood: birch
Size: 1,4 X 8 X 10 cm
Teether
Bear KR03

Teether is covered with linseed oil.

Teether - rattle
Bear BR03

Rattle is covered with linseed oil.

Wood: birch
Size: 1,1 X 7 X 10 cm
Wood: birch
Size: 1,4 X 7 X 10 cm
Teether
Butterfly KR04

Teether is covered with linseed oil.

Teether - rattle
Butterfly BR04

Rattle is covered with linseed oil.

Wood: birch
Size: 1,1 X 8 X 10 cm
Wood: birch
Size: 1,4 X 8 X 10 cm
Teether
Fish KR05

Teether is covered with linseed oil.

Teether - rattle
Fish BR05

Rattle is covered with linseed oil.

Wood: birch
Size: 1,1 X 7 X 12 cm
Wood: birch
Size: 1,4 X 7 X 12 cm
Teether
Duck KR06

Teether is covered with linseed oil.

Teether - rattle
Duck BR06

Rattle is covered with linseed oil.

Wood: birch
Size: 1,1 X 9 X 11 cm
Wood: birch
Size: 1,4 X 9 X 11 cm
Teether
Hedgehod KR07

Teether is covered with linseed oil.

Teether - rattle
Hedgehod BR07

Rattle is covered with linseed oil.

Wood: birch
Size: 1,1 X 8 X 11 cm
Wood: birch
Size: 1,4 X 8 X 11 cm
Teether
Frog KR08

Teether is covered with linseed oil.

Teether - rattle
Frog BR08

Rattle is covered with linseed oil.

Wood: birch
Size: 1,1 X 9 X 10 cm
Wood: birch
Size: 1,4 X 9 X 10 cm
Teether
Bird KR09

Teether is covered with linseed oil.

Teether - rattle
Bird BR09

Rattle is covered with linseed oil.

Wood: birch
Size: 1,1 X 9 X 11 cm
Wood: birch
Size: 1,4 X 9 X 11 cm
Teether
Flower KR10

Teether is covered with linseed oil.

Teether - rattle
Flower BR10

Rattle is covered with linseed oil.

Wood: birch
Size: 1,1 X 10 X 10 cm
Wood: birch
Size: 1,4 X 10 X 10 cm
Teether
Heart KR11

Teether is covered with linseed oil.

Teether - rattle
Heart BR11

Rattle is covered with linseed oil.

Wood: birch
Size: 1,1 X 9 X 10 cm
Wood: birch
Size: 1,4 X 9 X 10 cm
Teether
Sun KR12

Teether is covered with linseed oil.

Teether - rattle
Sun BR12

Rattle is covered with linseed oil.

Wood: birch
Size: 1,1 X 8 X 12 cm
Wood: birch
Size: 1,4 X 8 X 12 cm
Teether
Rectangle KR13

Teether is covered with linseed oil.

Teether - rattle
Rectangle BR13

Rattle is covered with linseed oil.

Wood: birch
Size: 1,1 X 6 X 10 cm
Wood: birch
Size: 1,4 X 6 X 10 cm
Teether
Cat KR14

Teether is covered with linseed oil.

Teether - rattle
Cat BR14

Rattle is covered with linseed oil.

Wood: birch
Size: 1,1 X 8 X 12 cm
Wood: birch
Size: 1,4 X 8 X 12 cm
Teether
Angel KR15

Teether is covered with linseed oil.

Teether - rattle
Angel BR15

Rattle is covered with linseed oil.

Wood: birch
Size: 1,1 X 8 X 12 cm
Wood: birch
Size: 1,4 X 8 X 12 cm